We hope you enjoy the first edition of our DGR Southwest news roundup.
---
Protect Pinyon-Juniper Forests Campaign
WildLands Defense are advocating for a moratorium on all pinyon-juniper deforestation in the Great Basin and we need your help. Pinyon-juniper forests are being wantonly killed as weeds while their inherent ecological value is summarily ignored. These forests store carbon dioxide, dampen climate change, provide crucial wildlife habitat, protect watersheds, and have helped humans survive in the Great Basin for millennia. A moratorium gives us time to marshall our resources to put this destruction to a permanent end.
Sign this petition with us and ask BLM to stop clearcutting pinyon-juniper forests
Pinyon-Juniper Forests: BLM's False Claim to Virtue
Pinyon-Juniper Forests: The Oldest Refugee Crisis
Pinyon-Juniper Forests: An Ancient Vision Disturbed
Follow our Protect Pinyon-Juniper Forests campaign on Facebook for more updates
Sacred Water Tour
The SNWA water grab is a prime example of how civilizations (cultures based on cities, as opposed to cultures based on perpetual care of their landbases, without resource drawdown) inevitably destroy the planet. A bloated power center, ruled by the ultra-rich and served by an underclass of poorly-paid workers, bolstered by bought-and-paid-for politicians (see Harry Reid) and misused public tax dollars,  reaches out and takes what it wants from the countryside.
One of the developers who wants the water grab has described the Mojave desert around Las Vegas as "flat desert stuff."  They call living land a wasteland to justify its continuing plunder.  To indigenous peoples—Shoshone, Paiute, and Goshute—the land and water are sacred.
Anyone who respects land and visits this place will fall in love with it.  That's the purpose of the Sacred Water Tour, an annual gathering organized by Deep Green Resistance for the past three years.  In coordination with local activists and indigenous people, the public is welcomed every Memorial Day weekend to tour the region.
Join us in 2016!
Resistance Radio: Derrick Jensen interviews Max Wilbert about the SNWA water grab
2015 Sacred Water Tour: Sacred Water Under Threat
2014 Sacred Water Tour: Report-Back
Groundwater Pipeline Threatens Great Basin Desert, Indigenous Groups
Follow our Stop the SNWA Water Grab campaign page on Facebook for more updates
Castle Rock Prairie Dog Campaign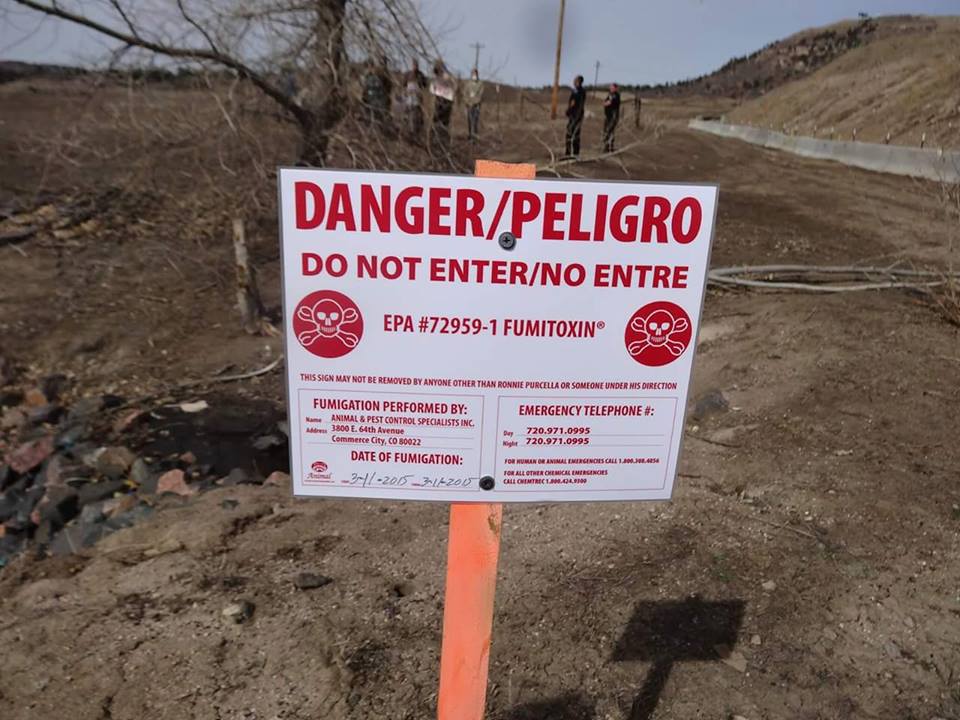 The prairie dogs of Castle Rock are gone, either murdered in the name of capitalism for a new mall, or, for the lucky few, relocated by brave activists. The few living castle rock prairie dogs now live in a nearby mountain meadow, on land owned by one of the DGR campaign activists and they are doing well.  These are the final updates on the prairie dog campaign.
The Castle Rock Prairie Dogs are Gone: Open Letter From An Exile
Sealed Fate of the Crowfoot Valley Prairie Dog Colony
Activists Fight to Protect Prairie Dog Colony Threatened by Mall Development
The 'Nation's Biggest Mall' Slated to Kill One of the Largest Prairie Dog Colonies on Colorado's Front Range
---
Regional News
Oppose Welfare Ranching, Not Wolves
Eight Surprising Prairie Dog Facts
Required Reading: The Malheur National Wildlife Refuge Was Taken Over Once Before, Back in the 19th Century
"Unstoppable" California Gas Leak Now Being Called Worst Catastrophe Since BP Spill
Op-ed: Utah Wildlife Board's anti-wolf rhetoric is a century behind
Follow the DGR Southwest Coalition Facebook page for more news.
---
The more we challenge the status quo, the more those with power attack us. Fortunately, social change is not a popularity contest.
Activism is a path to healing from trauma. It's taking back our power to protect ourselves and our future.
If you were trapped in a burning building, would you want the firefighters to be reluctant enthusiasts, part-time crusaders, half-hearted fanatics? Should the mother of a very sick child be reluctant or half-hearted in defense of that child?
…
We are in a crisis, and we need to act as such. We need to rescue people from the burning building. We need everybody's help.
The mass die-offs happening in the Pacific Ocean are not confined to birds. Sea lions, seals, dolphins, whales, anchovies, crabs, sea otters – all are dying in unprecedented numbers. They are starving to death. They are being poisoned. They are being killed. We are in the midst of the Sixth Great Extinction, and we are the cause.
Who will stand and bear witness? Who will count the dead? Do you have the courage to turn your face towards the pain, towards the dark truth of what we are doing to this earth? Or will you turn your face away as the world burns and dies around you?
Though we are in a desperate situation, we should remember that indigenous peoples in India are protecting the waters, forests and commons on which they live.  Despite beatings and jailings by the corrupt liberal government, these people are fighting to defend the land and environment they love and call home, in grassroots resistance groups.  Gunfire and force haven't stopped them.  Can we muster at least a small fraction of their courage and stand up for our own land?
When we demystify the term progress, we can understand that we're actually talking about manifest destiny. Progress is a mythology that tells us where we came from and where we are going, that pushes us to actualize the values and ideals of our culture. It might be that the role of people in any culture is to manifest the ideals of their culture. But the ideals of any one culture may not be shared by those of another.
If the purpose of a culture is to keep its members happy, healthy, well-fed, sheltered, and grounded in place, then the actualization of these values will be harmless and benevolent. However, what happens when the purpose of a culture is simply to dominate? What does it mean for a sick culture to actualize its values?
Physically, it's not too late for a crash program to limit births to reduce the population, cut fossil fuel consumption to nil, replace agricultural monocrops with perennial polycultures, end overfishing, and cease industrial encroachment on (or destruction of) remaining wild areas. There's no physical reason we couldn't start all of these things tomorrow, stop global warming in its tracks, reverse overshoot, reverse erosion, reverse aquifer drawdown, and bring back all the species and biomes currently on the brink. There's no physical reason we couldn't get together and act like adults and fix these problems, in the sense that it isn't against the laws of physics.
But socially and politically, we know this is a pipe dream. There are material systems of power that make this impossible as long as those systems are still intact. Those in power get too much money and privilege from destroying the planet. We aren't going to save the planet—or our own future as a species—without a fight.
---
Please join us or provide material support to make Deep Green Resistance possible.